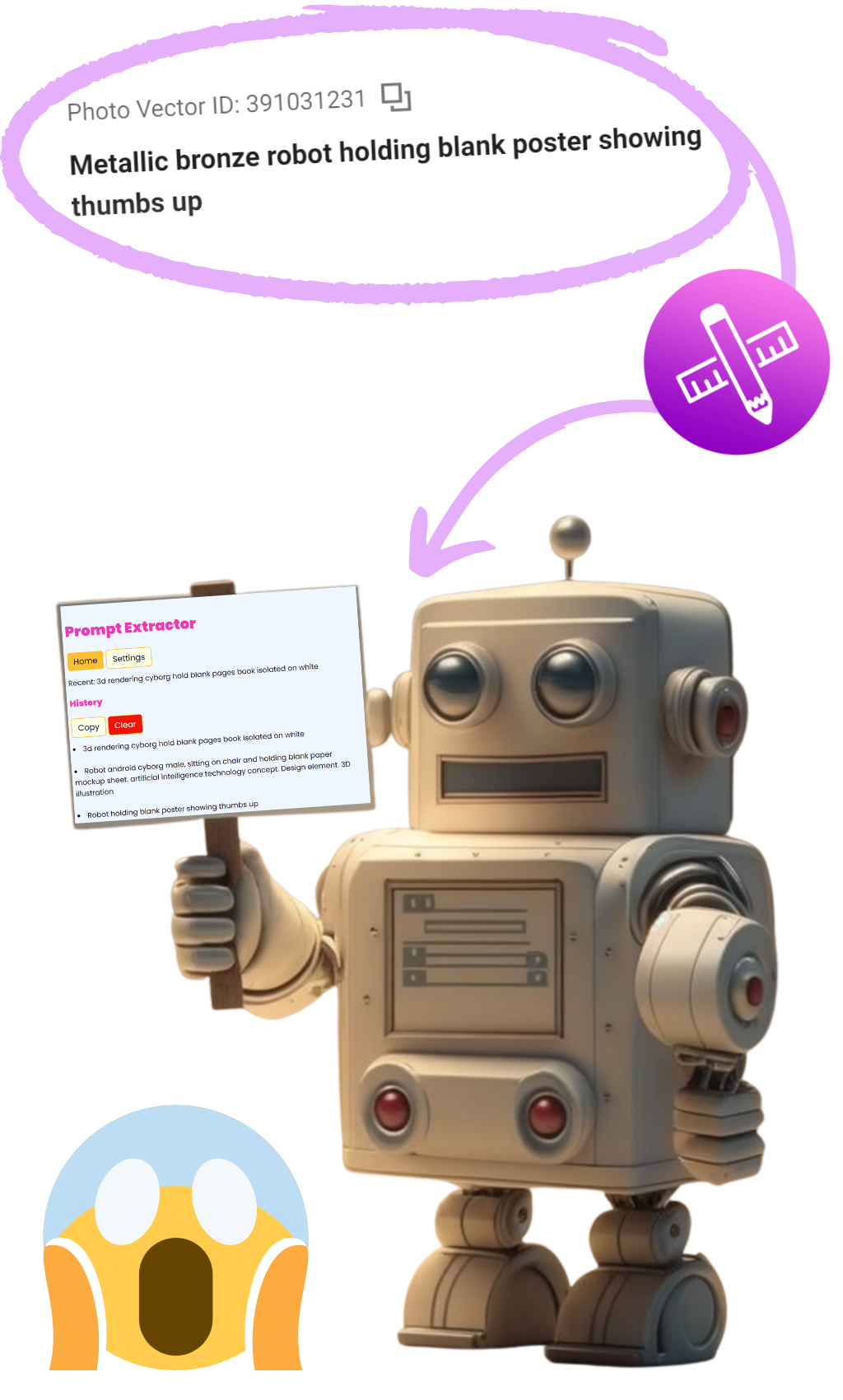 Honestly, I don't know what to make of this...

Is it Illicit? Sneaky? Genius?.. Dangerous? Not sure, but...

But I DO know this: it is HIGHLY profitable, and...

Since I'm sworn to bring you the most profitable AI tech for 2023, here it is..

Because, this week I discovered a stunning hack...

🥴 First, I asked GPT a question:, "Can You build me a chrome extension that extracts the tags from any website.. ? IT COULD!

🥴🥴 And, could you make it work with ANY website? IT COULD!

🥴🥴🥴 And, could it work just by me VISITING ANY PAGE? IT COULD!

🔫 AND THEN I REALIZED, I COULD SIMPLY VISIT ANY STOCK SITE, VISIT THE PAGE AND THE VERY TAGS THAT DESCRIBE THE STOCK PHOTOS I LIKE.. WOULD BE BEAMED INTO MY PROMPT CLIPBOARD, READY TO BE TURNED INTO THE BRAND NEW AI-PHOTOS, ONLY ROYALTY-FREE, CUSTOMIZABLE, AND INSTANTLY CREATED BY AN AI... 🔫

😱 All I would then need to do is an add an "IMPORT" button to my Image Whisperer software.. to accept, say, 30x of these prompts.. and then a dropdown menu next to each of the 10x image types..

😱 And you could take the same prompt and turn it into a new image, but now as clip art.. vectors.. 3D models.. in fact over 15x image types...all professionally made...

🔫 IT WOULD ONLY TAKE YOU BETWEEN 3-5 CLICKS TO GO FROM VISITING A STOCK PAGE, TO RECREATING A BETTER VERSION OF THE ORIGINAL IMAGE, USING THE DESCRIPTIVE TAGS AS PROMPTS, BUT THEN REWRAPPED WITH THE PRE-PROGRAMMED PROMPTS THAT POWER IMAGE WHISPERER.. EVERYTHING WOULD BE DONE FOR YOU!... 🔫

That was the idea -- but when GPT gave me the plugin I deleted the file and swore to never mention it again Right? 👌 Nah! Course not... I NEED to get this to you because I'm just "that guy"...

😮 I'm now giving you the plugin - with an upgraded version of Image Whisperer that includes an import function! VISIT URLs.. GRAB PROMPTS.. PASTE TO IMAGE WHISPERER.. TURN IMAGE WHISPERER INTO 30X IMAGES 😮

You've already seen some of these images on the DFY AI page.

❌ And as you can see, these are NOT "weird looking funny pics". ❌

These are classy `pegs. PNGs for the office. Icons for the corporate site. Vectors for your cold traffic lander.

The rub? They are made with AI for a penny a pop. No stock photos, no membership. Just click and download!

I'm sorry, WhatsItStock , but you shouldn't be charging $99 per month for a few images. AI was bound to eat your steak sandwich FIRST!

Now I did consider making a course on this... But INSTEAD I've decided to just GIVE you my 15x best templates.

These are the exact prompt templates that give you the most USABLE images for NORMAL websites, blogs, social media & promotional campaigns.

The same AI commands we run on the backend of my $300k marquee software Remixable!

All YOU need to do is load my plugin, visit stock images you like.. then when you're done, copy the tags from your browsing history into Image Whisperer & run the promp.. then the AI will generate a perfect image or graphic, like: line art.. HD stock photo... vector.. close-up... cartoon.. you get the idea.

Ok. Now so far, I've only talked about the "UPGRADE" which is this Chrome extension (and yes, it's fully customizable, letting you grab any tag from ANY website).

But here's the original 👑 Image Whisperer SALES PAGE👑...

With everything it included

It's STILL the best AI graphics software there is.. but now it includes my Prompt Grabber plugin too! ENJOY!